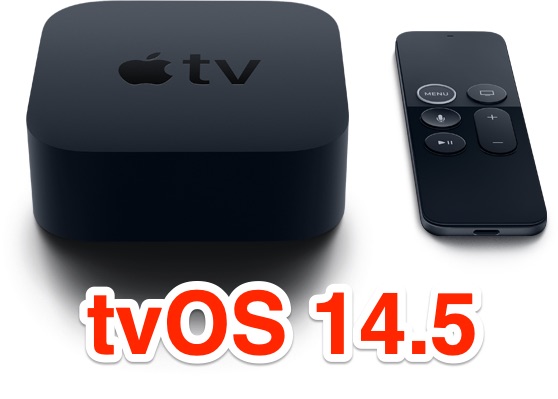 Apple has released tvOS 14.5 to the public. tvOS 14.5 is the fifth update to the Apple TV operating system that was released back in mid-September.
The ‌tvOS 14.5 update can be downloaded via the Settings app on the ‌‌Apple TV‌‌ by going to "System" -> "Software Update." If you have automatic software updates turned on tour Apple TV will be upgraded to ‌‌tvOS 14‌.5 automatically.
tvOS 14.5 Color Balance
tvOS 14.5 includes a new Color Balance feature, for existing ‌Apple TV‌ 4K and ‌Apple TV‌ HD models, as well as the upcoming new Apple TV 4K. To use it, open up the "Settings" app on ‌Apple TV‌, select "Video and Audio," and click on "Color Balance" in the Calibration section. The new feature uses the iPhone's front-facing camera to match the color shown on the ‌Apple TV‌ with industry-standard specifications used by cinematographers.
Color balance is available on all ‌Apple TV‌ models capable of running tvOS, and it can be used with tvOS 14.5 and iOS 14.5. The feature does not work when Dolby Vision is enabled, and an ‌iPhone‌ with Face ID is required.
New Game Controller Support
The tvOS 14.5 update also brings support for the PlayStation 5 DualSense and Xbox Series X controllers, which can be used to play games on the Apple TV from the App Store, as well as from Apple Arcade.
App Tracking Transparency
Apple begins enforcing its App Tracking Transparency privacy feature. App Tracking Transparency requires apps to get the user's permission before tracking their data across apps or websites owned by other companies. Under Settings, users can see which apps have requested permission to track and make changes as they see fit.
Users will see prompts that include options to "Allow Tracking" or "Ask App not to Track" when opening apps that wish to track their activity. While developers have been allowed to voluntarily add the tracking prompt to their iOS 14 apps by using the App Tracking Transparency framework. However, it has not been required and few apps have implemented the prompt voluntarily.
When a user selects "Ask App not to Track," the app will be blocked from accessing the user's IDFA. The developer is also required to respect the user's tracking preference overall and is not allowed to use other methods to track the user. Developers that violate the app tracking rules could see their app removed from the App Store.
Other New Features
Other new features include frame rate options of 29.97Hz and 59.94Hz instead of 30Hz/60Hz, an optional "Type to Siri" Accessibility feature that can be enabled, mirroring the "Type to ‌Siri‌" feature on iOS devices, an option for choosing "Other Wireless Speakers" as the Default Audio Output, and tweaks to the Podcasts app.
Apple TV viewers in Austria, Ireland, and New Zealand will now be able to use the ‌Siri‌ remote with their voice thanks to expanded access.
Read More…
Source: mactrast.com