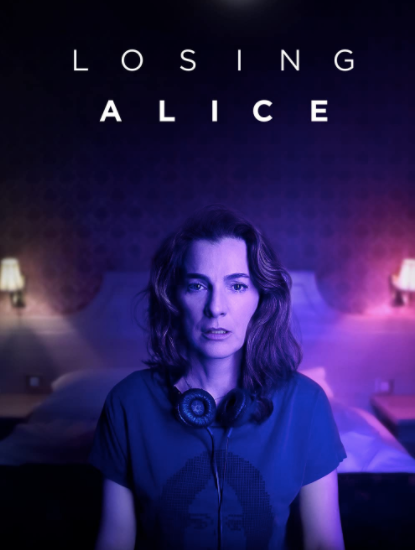 TV series about writers with complicated families and erotic urges who are writing something new and can't quite tell the difference between the fiction they're writing and the real relationships around them seem to be in the air these days. A few weeks ago, I told Anke Meijer for an article she was publishing in the NRC that such similarities in genres could be an expression of what Hegel termed "the spirit of an age". We find that spirit apparently at work in Deadly Illusions on Netflix, which I saw and reviewed here last week, and Losing Alice on Apple TV+, which I binge watched last night and enjoyed immensely.
Other than the tantalizing blurring between written fiction and real events in the creator's life which often takes center stage, and the protagonists in both cases being beautiful mothers in their 40s, the two TV series are somewhat different. Losing Alice is about a movie director not an author of books, takes place in Israel not America, and is in Hebrew not English (you can get translations and subtitles, of course — it's been a good month for Israeli productions, with Shtisel 3 out just last week). Losing Alice also is a much more complex mystery than is Deadly Illusions, delves into the special challenges of directing, and succeeds on so many levels that it can properly be called a tour de force.
Further, the writer and director of Losing Alice, Sigal Avin, is the same age as Alice, and looks a lot like her (Alice is powerfully played by Ayelet Zurer, whom I last recall seeing as Eric Banner's — or his character's — wife in Spielberg's Munich), which gives Losing Alice an attractive autobiographical flavor. When you see Alice struggling to get just what she wants in a scene, you can't help but feel you're viewing what Sigal herself is literally going through at that moment. Meanwhile, the resemblances of other characters in Losing Alice to each other enhances the underlying questions of who wrote what in the movie script that is the spark plug of both this television series and the movie (Room 209) within this television series. (Yeah, a good meta-story is always well met.)
Losing Alice is also one of the most erotic narratives I've seen in a while, and Avin is able to do this with a minimum of nudity. The crucial scene between Sophia and David was evocative of Last Tango in Paris, again with a bit less revealed, and energized by the fine acting of Lihi Kornowski as Sophia and Gal Toren as David.
I won't say anything more about the mystery of who wrote Room 209 — see Losing Alice to find out — but I don't think it's a spoiler to mention that the songs in this television series were also superb. My favorite is the apt My Name Is Trouble by Keren Ann. I'll also reveal that the ending leaves room for a sequel. Which I only mention because I'd see it in a heartbeat.
the Sierra Waters trilogy
Source: paullevinson.blogspot.com