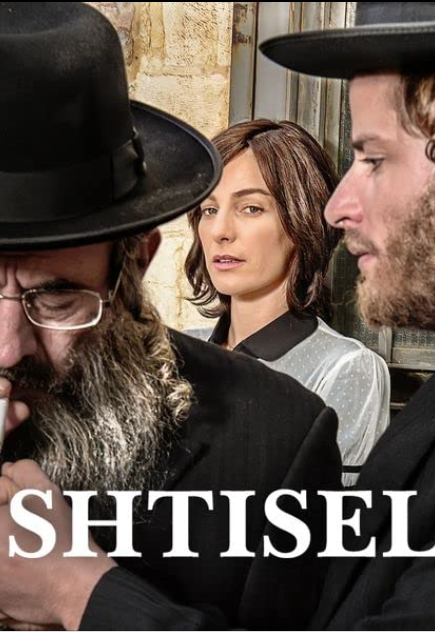 The wife (froi) and I binge watched the third season of Shtisel on Netflix — hey, it debuted on my birthday, March 25. And, I was delighted to find, these nine new, long-awaited episodes also had a shout-out for me, with a fairly major family named Levinson. Thank you, Shtisel!
And these episodes were immensely enjoyable!
[Spoilers hollow.]
Especially the ending, which had more happy endings than I've ever seen in a series before. Kiva defies his father and goes to live with his wife Racheli. Yosa'le defies his mother and says he will marry Shira Levi (not Shira Levinson, but I'm very happy for Yosa'le anyway). Shulem may be able to reconcile with his brother. And, most important, Ruchama and her baby are both fine — their faith beat the thousand-to-one odds. With so many unhappy endings in our real world — with Trump's defeat being a remarkable exception, a blessing! — it was gratifying and timely indeed to see so much happiness at the end of Shtisel.
The language, the Yiddish, was also a joy to hear, as it always is. Where else can you hear the word fakakta, as Nuchem, Shulem's brother, says his finances are. And to stay with the same character, the same sentiment, and the same area of the body as metaphor, it was good to hear Nuchem tell his brother he's a shtick drek, as well as this being well deserved in this case.
And the food was gesmacht to the max. That cheesecake from Brizel made my mouth water. (Is Brizel a real place? Hey, send me some of that cheesecake — look at this great publicity I'm giving you.) The lessons Shtisel so effectively conveyed, from the power of food to the power of art to the power of faith, are not only appealing but deeply memorable.
The acting was outstanding, too. Doval'e Glickman as Shulem, Michael Aloni as Kiva, Shira Haas as Ruchama, and Sasson Gabay as Nuchem were all just perfect, and I also especially liked Daniella Kertesz as Racheli and Reef Neeman as Shira Levi.
The ending did tie up a lot of stories, but hey, there's always room for another season. I'd drop everything else to see it, even if it doesn't debut on my birthday,
Source: paullevinson.blogspot.com