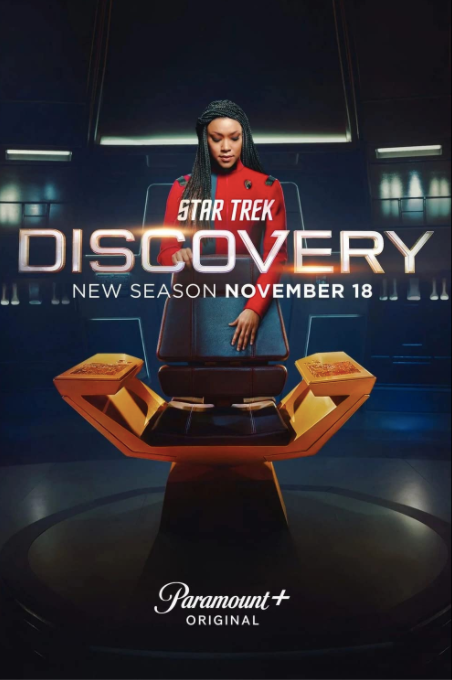 Let's get a couple of things out of the way before I offer this non-spoiler review of Star Trek: Discovery 4.1, up on Paramount+ TV since this past Thursday, November 18, 2021.
First and most important, that "up on" does not include most of the world. On November 16, 2021, Paramount+ announced that the new season — along with everything else on Paramount+ — would not be available outside the US until early 2022. People around the world, who had been enjoying the rebirth renaissance of Star Trek on Paramount via Netflix, were suddenly unable to watch the highly anticipated debut of the new season. This has to be one of the dumbest moves in the short history of streaming.
Second, and much less important, more of an annoyance than a major issue, but still worth mentioning: the new season of Star Trek: Discovery became available here in the New York at 3 o'clock in the morning on Thursday. Why not at midnight, the beginning of the new day, as Apple TV+ does with its new series? Again, not at the level of cluelessness as keeping all of Paramount+ from the rest of the world, but, still, an irritation.
Now as to episode 4.1. I enjoyed it. But it's worth mentioning that this is the first time I'm watching the series in real time — I binged all the prior seasons of Discovery, as well as Picard. And, well, as a standalone debut episode of a new season, this one didn't knock me out.
There was one great twist. And it was fun to see all of our favorite characters who survived the previous season, as well as a new one or two. The on-planet action had a technicolor Star Wars flavor, which is all to the good. And the repartee among the crew was customarily sharp.
But, I don't know, the hour lacked a gravitas, despite the series issues at hand. At times, the crew's banter was distracting rather than refreshing. Possibly it was because I saw Star Trek: Discovery 4.1 within hours of seeing the season 1 finale of Foundation on Apple TV+, but this first episode of the new season at times had a lightweight quality, despite the enormity of perils Captain Michael Burnham and her crew gamely encounter and contest.
But next week will afford Star Trek: Discovery a standalone spot on the stage of incandescent 20th century science fiction reimagined and brought to the streaming screens of the 21st, and I'll back with another review.
See also Star Trek: Discovery 3: Fulfilling the Promise … Star Trek: Discovery 2: Tour de Force Story and Characters … Discovering Star Trek: Discovery … Star Trek: Picard: Non-Pareil
Source: paullevinson.blogspot.com