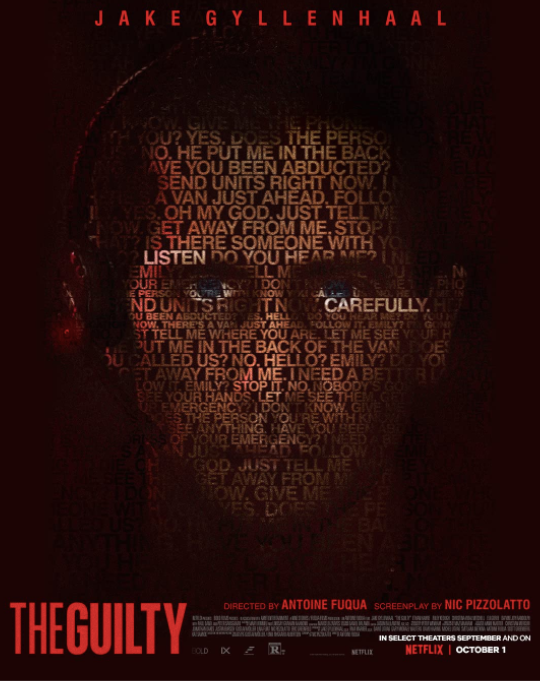 My wife and I just The Guilty, a scalding tour de force of a movie on Netflix. I'm not going to give away much if any of the plot, definitely not the crucial parts. I will say that nothing quite seems like it is. And you've got to stay with this movie til the end.
Here's what I can tell you: almost all of the movie occurs on the phone. Other than Jake Gyllenhaal, who puts in what may be the performance of his career as Officer Joe Baylor, on 911 phone duty because he did something wrong in the street on his job, we see just a few other minor characters. Otherwise, everyone else, including some very major characters, are voices on the phone. This easily could have been a powerhouse play — a play for the ages. Just like the movie (based, according to IMDb, on a Danish movie).
Joe fields a variety of nuisance and crackpot calls. And then gets a call from Emily, voiced by Riley Keough (The Girlfriend Experience and more). We also get to hear from Abby (Emily's daughter), Henry (Emily's husband, voiced by Peter Sarsgaard), Rick (Joe's partner, voiced by Eli Goree who played Cassius Clay in One Night in Miami), Bill (Joe's boss, voiced by Ethan Hawke) and other notables. But it's all pulled together — and apart — by Gyllenhaal's stunning performance, vaunting from exhausted sarcastic to high voltage shatter for a range of reasons.
Kudos to Antoine Fuqua for directing and Nic Pizzolatto for writing this unforettable package of narrative, Gyllenhaal on the screen, and other star power by voice. I'm no particular friend of police on the edge, given what has been happening for multiple decades and is finally getting some long due attention. But, well, see this movie and add it into your personal equation.
Source: paullevinson.blogspot.com