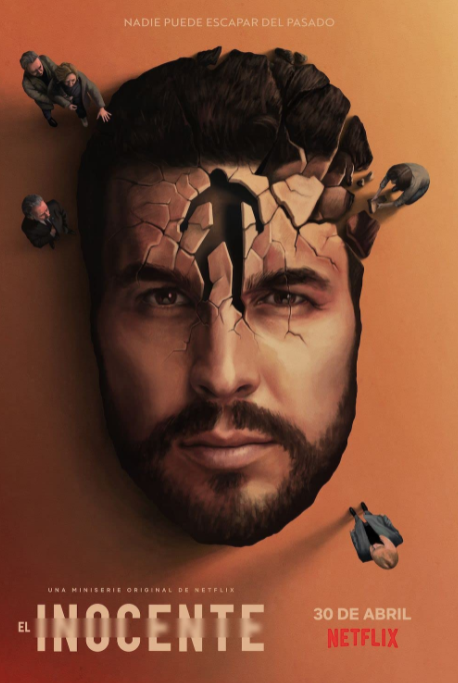 I've never seen a Harlan Coben movie or television series — that is, a movie or TV series based on Coben's novels — that I didn't really like. And The Innocent — more precisely, El inocente, a Spanish-language eight-episode short series based on Coben's novel The Innocent, on Netflix since the end of April — is one of his very best.
The narrative is a tightly woven multiple-suspect murder, prostitution, true love story, with at least three protagonists: Mateo Vidal, now very happily married, but served four years in prison because he accidentally pushed a young man to his death in a fight when Mateo was younger; Olivia Costa, Mateo's loving wife, pregnant with his baby, having left her earlier life as a prostitute; and Lorena Ortiz, also with a complicated past, now a detective, fighting to do the right thing in a male-chauvinistic and in part corrupt police force. The performances of Mario Casas, Aura Garrido, and Alexandra Jiménez in these three roles were outstanding, as was the acting of everyone else in this series.
As is the case with all of Coben's stories, characters are hit by improbable events and do improbable things, but you're wise as a viewer to follow your instincts — i.e., what you get from the subtleties of the people and their interactions, sometimes barely perceptible but always there — because it all fits together and makes sense in the end. That's the way Coben rolls. Pushes you pretty far out, but with just enough platform to hang in there and follow the clues as they inexorably stack up.
[SPOILER AHEAD….]
The one reservation I had — actually, my wife mentioned it first, and I agreed — was with Jaime (the father of the young man that Mateo pushed and accidentally killed) as the villain, who set Mateo up for most of the near brushes with death he has in the series. Jaime's motivation is one-hundred-percent clear and understandable. But his expertise in what he repeatedly tried to do to Mateo, in different but related ways, was not apparent or developped in the narrative. My wife said, "so this guy is a criminal genius?" He is in fact, an MD — a good way for him to find out that Mateo and Olivia are expecting a baby — but where does he get his criminal savvy? This could have been remedied by making Jaime some kind of forensic doctor, I'd say. But, ok, one reservation in a sea of characters who worked together with precise plausibility is a small quibble.
So see The Innocent, and enjoy.
Source: paullevinson.blogspot.com