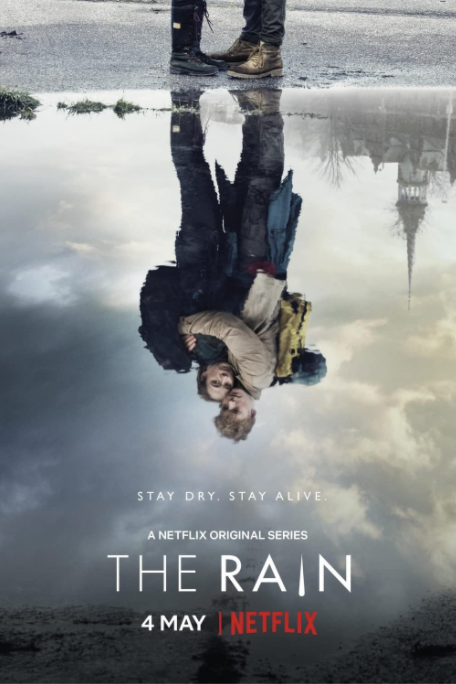 So, I watched all three seasons of The Rain on Netflix 2018-2020, and see that I somehow never got around to reviewing it at the time. I'll make up for that now.
The Rain is a Danish science fiction series, in which the rain carries a deadly virus that wipes out most of humanity. We learn that some group of people embedded the virus in the rain, which makes this a potent biowarfare story. And since in the immediate aftermath of the series, our species off screen in our world fell prey to the deadly COVID19 viral pandemic, The Rain has special relevance today.
As to the narrative, for a variety of reasons, teenagers are the ones who for the most part survive. I liked the first season the best, because it's mostly about stranded teenagers struggling to survive. Simone and her young brother Lucas take center stage, after their mother succumbs, and their father, a scientist, seems to have disappeared. We soon learn that he was involved in research about the virus — whether to create or counter it is not clear at this point — and Lucas was somehow part of his father's experiment.
Although the quest for a cure continues in the second and third seasons, the narrative switches focus to Simone and Lucas's discovery of various groups of people who have survived the rain plague, in remote and sometimes militaristic communities. We also begin to see back stories of some of the major players, giving The Rain a Lost-like quality, which works ok but distracts from the central pursuit getting a cure for the virus.
That quest puts The Rain right in our home territory, where we're trying to vaccinate as much of the world as fast as possible. The Rain is worth watching not only for its vivid drama, but for the lesson it provides about humans messing with nature, and failing to come up quickly enough with a remedy for their errors.
Source: paullevinson.blogspot.com